Commercial and Industrial Roofing Specialist
We provide all types of Commercial and Industrial Roofing and Cladding, plus replacement of asbestos fibre cement, profiled metal sheeting, modern flat panel systems, overlays, etc. We also specialise in warehouse roofing, including both refurbishment and new build projects. Other services include industrial maintenance and emergency call-out, while our commercial division handles slating and tiling. We are licensed for many types of material, including several single ply membranes.
Through steady, controlled growth over 30 years, we have many satisfied clients who we still deal with regularly, by focusing on what they actually need.
We are approved installers for some of the largest manufacturers in the United Kingdom and only fully trained operatives, who are directly employed, install these systems.
We have an excellent Health and Safety record by adopting the very latest Health and Safety procedures.
Solar Power Roofing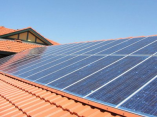 At EBL, we are always looking towards the future and the future is most certainly Solar Energy for domestic and commercial applications including water heating and to help reduce those rising electricity and gas bills.
Why use EBL?
Providers of all types of Commercial and Industrial roofing and cladding
Specialists in warehouse roofing
Successfully trading for over 30 years
Impeccable Health and Safety record!
Fully insured reputable company with trained operatives
What our customers have said
"The works carried out by EBL were to a very high standard and would I like to thank everyone involved. And also every call to EBL was dealt with in a professional but friendly manner and he would recommend them to anyone getting works carried out."
"The work that had been carried out was to an exceptional quality, and the team took the time and trouble to explain to me what work they were carrying out, and why. In all they have been outstanding.
"The standard of work was excellent, friendly and speedy. I would not hesitate to recommend them to anybody else"
"We would like to thank everybody involved in the reinstatement work for a job well done and also for the helpful, friendly and efficient service they received."
"I would like to express my appreciation of the work carried out by members of your staff, they were very efficient, polite and left the works clean and tidy."